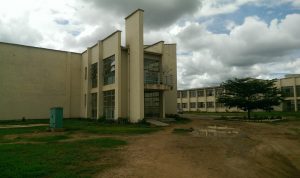 Solwezi Trades Training Institute (SOTTI) is one of the vocational skills training provider based in Solwezi, the provincial headquarters of North Western province of Zambia. SOTTI is located within town center opposite the Solwezi City Mall.
MANDATE
Solwezi Trades is mandated to provide a diversity of high quality, demand-driven, community-oriented and affordable TEVET skills training programs for the socio-economic development of the individual and the nation.
Over the years of the existence of Solwezi Trades Training Institute, 2016 recorded the largest increase in the number of students enrolled. From a total of 156 students in 2015, the figure was doubled to 327 in 2016. This arose from the vigorous distribution of fliers outlining the training programmes at SOTTI to a wide catchment area of Solwezi and other provincial districts. Demand driven courses were also introduced in 2016 which contributed to student increase. The new courses were Diploma in Teacher Education in Business Studies, Heavy Equipment Repair, occupation Health and Safety, and Diploma in ICT with Education. To this end, the objectives to increase student population and introduce new demand driven programmes by 31st December 2016, were achieved.
MISSION STATEMENT
'To provide a diversity of high quality, community demand driven and affordable business and vocational skills training programmes for the socio-economic development of individuals and the nation.'
VALUES
SOTTI is accountable to its learners and the community.
SERVICE
SOTTI is a pace-setter in the provision of TEVET Programs in North-western province.  The Institute is accessible and responsive to the community.
INTERGRITY
SOTTI values transparency, sincerity, fairness, honesty, accountability, respect and trust which form the foundation of its existence.
EXCELLENCE
SOTTI strives to deliver high quality training, value hard work and commitment to duty.
DIVERSITY
SOTTI values gender equity and innovation in its service delivery, embracing differences and promote positive criticism.
SOTTI'S VISION
The vision of SOTTI is to be the leader in the provision of business and vocational skills training in Northwestern province.
STRATEGIC OBJECTIVES
To increase access to and promote the efficient and equitable provision of quality and relevant labour-market technical, business, vocational and entrepreneurial skills training programmes.
To increase youth and adult literacy levels in the local community.
To promote social corporate responsibility in the local communities through sustainable partnerships.
The core business of SOTTI is to provide vocational skills training to youths.
The skills training provided lead to the Technical Education Vocational and Entrepreneurship Training (TEVET) qualification level 3, 1 and craft certification by the training authority (TEVETA). Below is a list of courses currently being offered at SOTTI:
COURSE
LEVEL
AFFILIATION
DURATION
Teacher Education in Business Studies
Diploma
UNZA
2 Years, 8 Months
ICT with Education
Diploma
In process
2 years 8 months
Secretarial & Office Management
Diploma
TEVETA
2 Years, 8 Months
Electrical Engineering
Craft
TEVETA
2 Years
Automotive Mechanics
Craft
TEVETA
2 Years
General Agriculture
Craft
TEVETA
2 Years
Metal Fabrication
Craft
TEVETA
2 Years
Heavy Equipment Repair
Craft
TEVETA
1 Years
Carpentry & Joinery
Level 1
TEVETA
1year
General Hospitality
Level 1
TEVETA
1 year
CIPS
Adv. certificate
CIPS, UK.
6 months
Food Production
Level 3
TEVETA
6 months
Stores Management
Diploma
ICM
6 months
Bricklaying
Level 1
TEVETA
1 Years
Occupational Health & Safety
Advanced Certificate
UNZA
2 Years
Computer Appreciation
Certificate
SOTTI
3 months
Computer Maintenance.
Certificate
SOTTI
3 months
Roofing
Skills Award
SOTTI
3 months
ICT
Certificate
TEVETA
6 months
Trade Test Level (any vocational skill)
Levels 1 & 3
TEVETA
Level 1year,

Level 3 6 months
Contact Details
For any queries you can contact the following numbers:
Accountant: +260 967592099
Cashier: +260 977711026